Grab sealed pouch of two-year-old, irradiated sliced turkey from pantry. Place in suitcase warmer and heat 15 to 20 minutes. Slice open pouch. Eat carefully so crumbs don't float away.
Following those simple instructions, six astronauts aboard the International Space Station Thursdayday will be able to enjoy a Thanksgiving feast in orbit.
"Naturally, this stuff is not going to be quite the same as homemade and being fresh carved off the turkey," said Vicki Kloeris, ISS food system manager at NASA's Johnson Space Center in Houston. "We come as close as we can given the constraints that we have of no refrigerators and no freezers."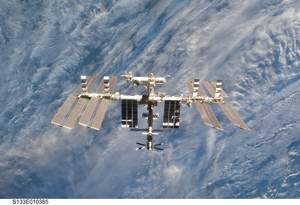 Traditional American Thanksgiving dishes are among about 200 food and beverage items NASA astronauts can choose for meals during their six-month expeditions on ISS.
They include freeze-dried cornbread dressing (add hot water), mashed potatoes (no gravy), green beans and mushrooms and deserts such as cherry-blueberry cobbler and candied yams.
All are processed to remain edible throughout long-duration flights that could be extended if an emergency arose.
Astronauts report their sense of taste is dulled somewhat in microgravity. Kloeris said that's no surprise: fluids rise to their heads early in flights, making them feel congested. Also, food smells disperse instead of rising straight to their noses.
NASA astronaut Dr. Tom Marshburn, who spent last Christmas in space, said the turkey is excellent and the crews look forward to meals.
Holidays provide important opportunities to connect with families on the ground and to share international customs with crewmates.
"It kind of binds us all together more as humans, even though we're from different countries, and makes it a very special time, a very meaningful time on station," he said.
Thanksgiving is a work day for the Expedition 38 crew now orbiting 260 miles above Earth, which includes Americans Mike Hopkins and Rick Mastracchio, a Japanese astronaut and three Russian cosmonauts.
In a recorded message, the Americans showed off examples of their packaged Thanksgiving dinners that were stuck to the station walls with Velcro.
They thanked their supporting ground teams and military service members who might be deployed abroad, and wished the rest of us a Happy Thanksgiving.
"The six of us up here are like a family," said Mastracchio. "Like most people in the U.S., Thanksgiving means spending time with my family and enjoying a big meal."
See the story by James Dean at FloridaToday.com